Latest News: Medomak Valley High School Heirloom Seed Project
The Heirloom Seed Project at Medomak Valley needs to continue its great work throughout the summer, with their Summer Teen Agriculture Crew. Read here about the PROJECT and how you can HELP.
Lincoln County Food Council/Initiative
After well over a year of conversations and Maine Network of Community Food Councils involvement, Lincoln County Food Council (LCFC) has formally been established and currently has a core group meeting monthly to develop a mission/vision and to consider the role we can play as a catalyst and connector around food security, food production and food distribution in Lincoln County.
The LCFC seeks to engage a diverse group of participants, including existing community partners, churches, business associations, and farmers' groups, in a dialogue about, but not limited to, current food issues, including security, access, production, processing and distribution.
If you are interested in getting involved contact Heather Burt at: [email protected], or Zach Mosher at [email protected].
Johns Hopkins CLF (A great resource!!!)
Johns Hopkins Center for a Livable Future has a Food Policty Networks Projects that has been keeping tabs on some of the great work being done and can now make all those documents, websites, studies, and contact information available for all. The two new features include a database of policies, how-to guides, case studies and more, as well as a directory of food policy councils (FPCs) in the U.S., Canada, and First Nations.
Anne Palmer, a program director at CLF, said the need for these tools became apparent as work in food policy increased significantly over the past decade. "Our goal is to provide a resource for councils, coalitions, policymakers and other food system stakeholders that addresses the what and how of working on state and local food policy," she said.
Here's a bit of information about the tools, which can be found at www.foodpolicynetworks.org.
The database which houses those documents, websites, and studies can be found here.
Check out the Maine Food Atlas!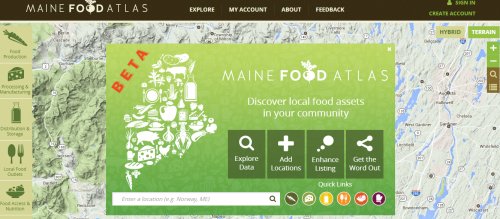 The
Maine Food Atlas
is a beautiful new website, currently in beta form, that can offer free marketing for your farm. The site was designed by the Maine Network of Community Food Councils to map the Maine food system but allows farmers, food entrepreneurs and other food-based entities to "put themselves on the map." Called "curated crowd sourcing," food businesses create a profile including any information, photos and links. Local food councils can help create the listings.
Check out the following pages for an idea of the richness of each site's listing:
Alan Day Community Garden
Roberts Farm
Pat Verrill (Harvest Maine Produce)
Cold Spring Ranch
Contact Ken Morse at
[email protected]
for more information or to receive assistance from your local food council.
Through local food asset mapping, Community Food Councils are actively exploring and documenting their regional food systems. This work provides essential baseline information necessary for rebuilding community food systems, assuring greater food security for all, and improving the social, economic, environmental, and health impacts of our food.
The Maine Food Atlas encourages diverse food operators—growers, processors, farm to school groups, food security organizations—to use the website and put themselves "on the map." Users can establish free Maine Food Atlas accounts, which allow them to richly describe their work, load photos, and independently manage their postings over time.
It is designed as a tool to help visualize and organize the food system in Maine. Go here to see it!
2012 USDA Agriculture Census
According to the USDA, Lincoln County, is home to over 340 farms and 7,000 acres of total cropland
Check out the 2012 Ag Census for Maine, by County!! Click here.
Lincoln County Farmers' Markets
Click here for details on Lincoln County Farmers Markets.